Today I am joining Britt's Friday Love List Link Up! I figured for my first link up we better keep it simple, and all I have to do with this one is post about what I'm currently loving and then give a shout-out to another blog I'm really enjoying! Here goes.....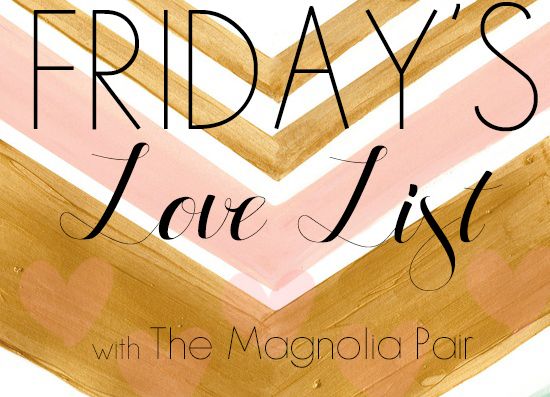 Range week is over!! If there are any military wives reading this, you know what I mean! There have been way too many 3am mornings this week when I haven't been able to fall back asleep after Ben leaves for the range. It has been an exhausting week for both of us, but especially for Ben who has been in the HOT sun all day everyday.
Dinner plans. I know it is going to be much more difficult to have date nights with friends once Jack arrives, so I am excited to go out to dinner with an awesome duo tonight and head over to a friend's for dinner tomorrow night.
Being home. It has been so nice being home these last two weeks. When I decided to

quit a month before my due date

, I wasn't sure if I was going to wish I would have worked longer to avoid getting stir crazy. Let me tell you, it has been the exact opposite! I have really reaaaaaally enjoyed checking off boxes from my 'baby to-do' list and preparing for Jack's arrival. Even more, I've enjoyed having a slower, more relaxed set of pace. Starting my day with red raspberry leaf tea, the Bible, and my two favorite furry companions has been by far the best part.
Friday=appointment day! I love hearing updates on Jack and getting to hear his heartbeat. I also love hearing "You're going to push this baby out just fine! That long torso and those long legs--you are built like a birthing machine!" She says it every time. A girl can dream, right?!
Ben. I don't know if it's the pregnancy hormones or what (haha--not going down that road, I know what you were thinking....), but lately I have just been so grateful that Ben chose me to be his wife, and that God chose him to be my husband. His heart for God, for this family, and for being a Marine that truly stands apart from the crowd inspires me.
And now for my blogging buddy shout-out: Jessica from Nerd and Healthnut. Definitely check out her blog for yummy recipes and as of July 4th--sweet updates on her adorable baby boy!
Happy Friday and hope everyone has a great weekend!