Today I decided to join the good life blog and talk about 5 things--any random 5 things that are on my mind! So let's talk baby--here are 5 different ways we have prepared our home for Jack's arrival!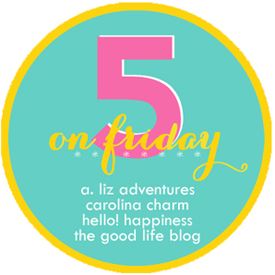 [

one

]

sleep
We have a pack 'n play with a built in bassinet set up in our room for the beginning stage, and then will transition him to his crib.
[
two
]
diaper changing
Jack's changing table is organized and ready to go! We have pacifiers in the small bag hanging on the left of the table.
In the crate on the left are cloth diapers. I am hoping to cloth diaper once Jack is out of the 'newborn' diaper stage. Believe me, these aren't the same cloth diapers that your mom or grandma may have used--check out how cute they are here! There are so many different kinds and styles that it has been a little overwhelming, but we have just decided to get a couple of a few different styles that have been popular among people we've talked to and then go from there.
The middle crate has 'peepee teepees'--a gift from Ben's mom that will hopefully keep us dry during diaper changes! :) There's also wipes, a spray bottle, and coconut oil to keep Jack's bum nice and soft. On the right are adorable burp clothes made by my friend--check out her shop: http://www.etsy.com/shop/HollyMadeGifts
Ok--so this is kind of gross and probably TMI for some of you...but if you've been reading my blog for a while--you know I keep it real on here. When you choose to cloth diaper, you have to figure out how you want to manage the 'mess'. There are two classes of people: the swishers and the sprayers. To give myself the best shot at being successful, we decided to join the 'sprayers' club...the good/kind-of-weird thing about breastfed babies is that the diapers don't need to be swooshed or sprayed until they start on solid foods. They can just go straight in the washer.
[
three
]
the
swing
This bad boy doubles as a swing and a bouncer.
It rocks and reclines.
We have a 'diaper changing station' for downstairs--wipes, newborn diapers, changing pad, coconut oil.
We've also stashed some burp cloths (another sweet friend made these), receiving blankets, and bigger play blankets downstairs.
As you can see, we are ready for Jack's arrival whenever he is ready to join us!
Want to know how I can tell that Ben is extra ready? He'll sometimes talk about Jack like he's already here....we'll be walking out the door and he'll say, "Don't forget to grab Jack out of the swing!" Or we'll be sitting on the couch and he'll show me his phone, which is the live video feed coming from our baby monitor...staring at an empty crib.
Cute? Creepy? Yea, I still haven't decided either...